Parents' Divorce Class for Florida Divorce
Each parent in all Florida divorces with children or paternity cases are required to take the parenting class, which takes about 4 hours.  Once you've taken the class, you must file the certificate in your court case.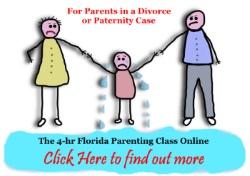 This class is officially know as Florida Parent Education and Family Stabilization Course, and must be a course approved by Florida's Department of Children and Families.
There are a lot of providers out there; costs range from $19 to $95.
You can take the class online, which does save driving time at least.
You can find out more information here; you can log on and off according to your schedule until you get to the four hours.